Home
Animals
Trees
Floral & Still Life
Small Works
Prints & Cards
News
The Artist
Newsletter
Galleries
Contact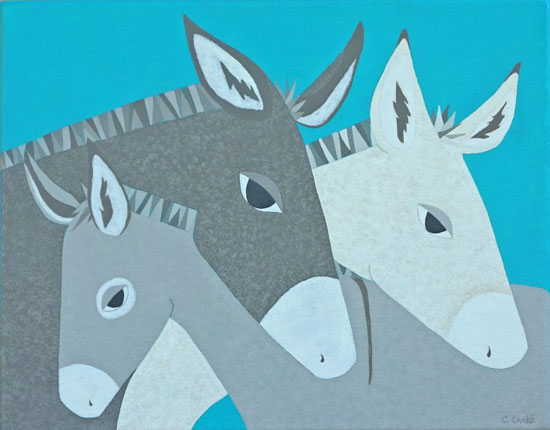 Gift from God
Acrylic on Gallery Wrap Canvas 11"x14""
This was a custom commission for a very sweet lady who asked me to portray her donkey family.
Lizzy (dark mom), Joey (white dad) and Charlie (their boy) were an absolute joy to paint.
An initial test showed Lizzy to not be pregnant, but Charlie came along anyway.
A very welcome surprise to the owner and her inspiration for the title.
This is my first donkey painting and I love that the collector chose me to portray her
adorable donkeys without having any idea what the end result would look like.
So much fun, look for more donkeys in the future.

Prints are available of this image. Please go to the prints page.
Stylized whimsical contemporary donkey art painting with turquoise.